Good skin quality is something most of us seek. Texture and luminosity are the most important visual components of great skin, and no amount of plumping or tightening will bring these about without a beneficial skincare regime.
Managing you skin over a lifetime requires products appropriate for your age, and the types of corrections you'd like to achieve. They should actively improve the health and function of skin cells with each application.
Our clinic exclusively stocks Jan Marini Skin Care products
Jan Marini has been voted as the best skin care products in a doctor's surgery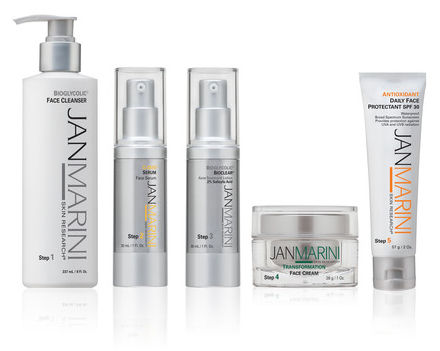 Jan Marini comprises of 5 steps:
1 – Cleanse – Our cleansers encourage a soft smooth and more refined skin texture.
2 – Rejuvenate – Vitamin C & DMAE improve the appearance of wrinkles, skin firmness and create a lifted, radiant look.
3 – Resurface – Dynamic ingredients target textural concerns and provide multifaceted resurfacing benefits.
4 – Hydrate – Versatile solution regulates moisture content, guards against inflammation and greatly enhances skin rejuvenation.
5 – Protect – Broad-spectrum UV protection from the sun's harmful rays. Microscopic sponge encapsulation system provides a silky matte surface that does not feel heavy or oily.